Leap into Summer Sweeps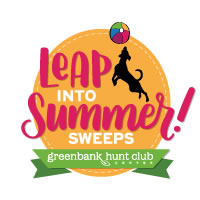 Summer Sweeps 2018...Coming this year!
We'll be running our fantastically successful campaign again this year; make sure you're on the Centre's mailing list so you don't miss any details.
2017 Grand Prize Winner
Congratulations to Richard M. Haney, Ph.D., the winner of a private dining experience for 10 at Salute Italian Kitchen & Wine Bar (max value $1,000). Richard says: "I am so happy to have won the Grand Prize at Greenbank Hunt Club Centre!! How appropriate. We are having a discussion-based gathering called 'What Matters Most' and it will be delightful to hold it at this wonderful Italian restaurant."
Summer Sweeps 2017
Our month long Leap into Summer Sweeps promotion was a tremendous success! Thank you to everyone who participated. There were nearly 70 Instant Winners and we have confirmed the winners of the main prize draws for each of the four weeks.
Participating Merchants
See full list of participating merchants (27 stores and businesses)
Rules & Regulations
For a complete list of rules and regulations, please visit the Summer Sweeps rules page.