Leap into Summer Sweeps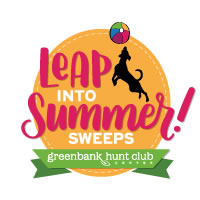 June 1 - 30, 2018
Pick up a card with a PIN code to enter here every time you shop or dine at Greenbank Hunt Club Centre in June!
Prizes & Participating Merchants
Rules & Regulations
For a complete list of rules and regulations, please visit the Summer Sweeps rules page.
2017 Grand Prize Winner
Congratulations to Richard M. Haney, Ph.D., the winner of a private dining experience for 10 at Salute Italian Kitchen & Wine Bar (max value $1,000). Richard says: "I am so happy to have won the Grand Prize at Greenbank Hunt Club Centre!! How appropriate. We are having a discussion-based gathering called 'What Matters Most' and it will be delightful to hold it at this wonderful Italian restaurant."